THE GIFT
Short Feature Film
We hope that this film, shot in Cambodia, will touch any viewer, from any country or social origin he or she may come from. This film is not only about Cambodia and its history, but is a filmmade to touch and reveal a remarkable characteristic of man - the ability to revive life. The film is about the healing of a deep trauma through love, prayer and by following one's calling.
In the Kingdom of Cambodia, in a remote village next to the delicate temple of Banteay Srei lives a family battling to survive the hardship of poverty but also of the deep psychological traumas that affected a whole nation.
The focus is on one family, in which the grandmother was a court dancer in the Royal Palace when the horrific genocide by the Khmer Rouge annihilated all forms of education and knowledge. She went through the unspeakable pain of losing her husband, father, mother, a brother, 3 sisters and 2 of her 3 children who were slaughtered in front of her eyes. Later on, she wasshot in a group, standing in front of a pit and was left for dead holding her only living daughter.
Her daughter later got married to a farmer and had children of her own, but neither mother nor daughter ever managed to lift that inhuman pain that continued to haunt them. They never spoke about the events and actually hardly ever spoke at all. They let themselves survive, day after day, incapable of feeling any emotion, their eyes gazing as beads in limbo.
From a very young age, Manin, the granddaughter, was very disturbed by her mother and grandmother's numbness. She escaped, for brief moments, the heavy burden that seemed to oppress her family, and paid regular visits to her "friend": a stone Apsara[1] in a close by temple. Manin is captivated by her celestial and serene beauty. She confides in her, speaks to her, laughs with her.
One day, after visiting the Buddhist temple where she prays for her grandmother to be able to feel happiness and enjoy life again, Apsara sends a mystical sign calling for Manin. And the miracle happens when Manin reaches Apasara. Apsara tells her that for many years she observed her and can read her heart and soul and knows full well the dream that she cherishes the most. Apsara also sees herself in Manin and decides to come out of the stone one last time to dance on earth and transmit the heritage of her dance to Manin.
Manin's grandmother witnesses the transmission of the dance by the stone Apsara. At that moment, everything comes back to her and she tells her granddaughter about her and her mother's life.
The grandmother decides to teach dancing to the village children with the help of Manin. Through this medium of dance and music they find spirituality and serenity and she reconciles herself with the traditional, cultural and family values.
[1] The Apsaras are celestial beings engraved in stone found throughout Cambodian temples. Legends say that they are the intermediaries between our reality and the spiritual realm.

Ravynn Karet-Coxen: "Powerful short film capturing the essence of the Khmer soul in all its dignity, reserved emotion and pain still haunting so many in the rural areas and the dream and hope of the younger generation.
This story of a grand mother, former classical dancer numbed with agony and torment by the horrific loss of husband, children, family, friends but also her breath, the passion of the dance.
Living in limbo with her only survived daughter and family imbued by her affliction.
Suddenly all is lifted and the flame is shining when she discovered the shared passion of her grand daughter seeking the mystery of the stone Apsara to become one and that the grand mother is able to liberate herself form the heavy burden and revive her passion by transmitting it".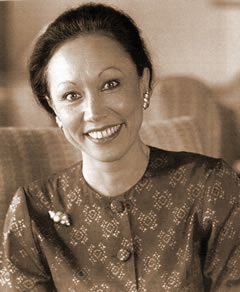 Ravynn Karet-Coxen
In 1994, Karet-Coxen founded the Nginn Karet Foundation for Children, Cambodia, whose primary purpose is securing basic needs for the rural village people. Since then she has developed programs focused on clean water, hygiene, health care, vaccination, nutrition, malaria awareness, agricultural training, education, and literacy. The foundation works with 2,334 families in fourteen villages of the Banteay Srei district. She has also founded a traditional Khmer dance school for the children of these families under the patronage of HRH Princess Buppha Devi.

PHOTOGALLERY
Leave a comment
To leave comments you need to enter the site
The film "Dar" is a participant of international festivals, the winner of the prize at the Award of Merit.
Award of Merit – International Film Festival for Peace, Inspiration and Equality (Jakarta, Indonesia)
Film Festival I See God (Moscow, Russia) – official competition
Farcume: Festival Internacional de Curtas-Metragens de Faro (Faro, Portugal) – official competition
SILA FESTIVAL (San Pietro Magisano, Italy) – official competition
International Film and Music Gathering MEDIAWAVE (Fort Monostor, Hungary) – official competition
Film Director:
Konstantin Vihrev-Smirnov

Сonsultant:
Ravynn Karet Coxen

Shooting location:
Cambodia
Date:
2015